02 Nov 2015
Monday 2 November 2015: De La Rue congratulates the Maldives Monetary Authority (MMA) on the occasion of the launch of the exciting new Maldives family of Safeguard® banknotes.
As previously announced, the new family of 6 banknotes – Rufiyaa 10, 20, 50, 100, 500 and 1000 – launched on 1 November has been designed by local designer Abdullah Nashaath and was printed on Safeguard by De La Rue, in close association with the MMA.
The stunning family of banknotes marks a radical departure from the previous issues and represents an exciting development in the design of Safeguard banknotes. There is an attractive all over iridescent print on the front of all values as well as the hide and reveal MASK™ feature which reveals the letters MMA when it is held up to the light.
Commenting on the launch, Governor Dr Azeema Adam said "These beautiful and secure new banknotes reflect the culture and heritage of the Maldives people and are a fitting reflection of our diverse nation. We are very grateful to De La Rue for assisting us in bringing these new notes to life."
De La Rue's Global Account Management Director Ruth Euling stated "We are absolutely delighted with these new banknotes and continue to be honoured by our on-going partnership with the MMA".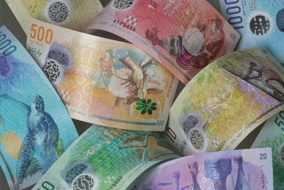 News: DeLaRue.com